Why Choose
Home Team?
Certified & Affiliated
We're obsessed with customer service. As a member of the West Michigan Better Business Bureau since 2004, we provide our region with the best care – and we have testimonials from happy clients to prove it. We are also a contributing member of the United Association of Mobile Contract Cleaners (UAMCC), which verifies our commitment to work to a rigorous industry standard.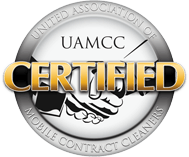 Customer reviews
"Recently Brian power washed my house, deck & porch. It LOOKS GREAT and the best part is his customer service! He is prompt, fair, does a great job & could not be a nicer guy."
– Randi, Battle Creek
"Thank you so much, OUR HOUSE IS SO CLEAN and beautiful!! You did an AWESOME job!!!!!!!! We are very pleased."
– Marylynne, Battle Creek

experience & technology
Rely on our experts for a transformational maintenance experience for your home, business, or industrial center. Our services encompass all of your property's needs – and with advanced cleaning technology, years of experience, and the best methods to help us, there's no property that our team can't restore.